Veronica is a vampire.
VERONICA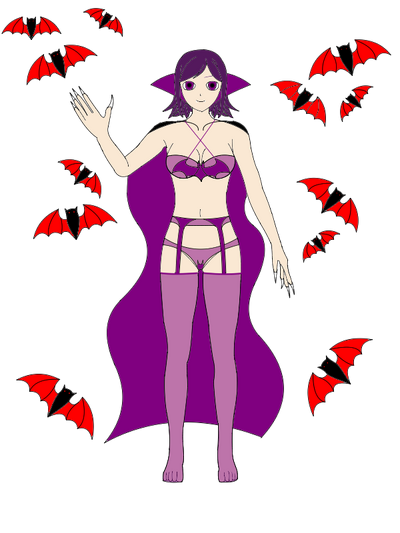 INFORMATION
Alias: Dracula
ID Tag: (VMPR)
Age: 21
Gender: Female
Eye Color: Purple
Hair Color: Purple
Physical appearance
Edit
Normal:
Veronica has purple eyes, shoulder length black hair, pale skin, half inch claws, and a set of fangs. She wears a black cape with a purple inside and purple lingerie. There are usually vampire bats with black fur, red eyes and red tail and wing membranes flying around her.
Bat:
As a vampire bat, Veronica has purple eyes, black fur, and purple wing and tail membranes.
When Veronica isn't sitting in front of the television or scaring children, she's usually draining blood from animals. However, she never attacks humans.
Abilities
Edit
Bats, fangs, claws.